JJ White Inc. Fleet Accident Prevention
Scenario 1: Parking Next to A Blind Object – This picture depicts how an object (fire Hydrant) can easily be low enough to not see, resulting in damage to both the vehicle and to customer property.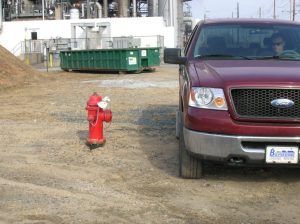 Solutions:
1) Choose Parking spot carefully, leaving space for the "swing radius" of your vehicle.
2) A 360 degree walk around before entering your vehicle will ensure you see all hidden objects,   including those objects i.e. bicycle, tool box, parts etc. – placed after you parked.