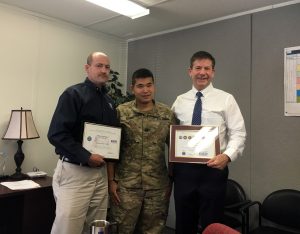 JJ White Safety Services Manager and US Army Reserve member Chris Giamo recently presented two prestigious awards to his JJ White colleagues. Chris is leaving his duties at JJ White to prepare for an overseas mobilization in the military.
Here at JJ White, we take great pride in our employee's connections to the US Military and give Chris our full support. In light of this, Chris presented the "Seven Seals Award" for meritorious leadership and initiative in support of the men and women who serve America in the National Guard and Reserves to the entire JJ White organization. Robert Celestino, JJ White VP of Risk Management, received the "Patriot Award" for individual supervisor support of an employee serving in the National Guard or Reserves.
We are so proud of this recognition, but are even more proud of the brave work of those in our military, especially our own Chris Giamo.