JJ White has an in-house Fabrication Shop capable of providing all of the custom fits for your project. The JJ White Fabrication Shop makes more than 100,000 Diameter Inches of Fabrication per year and is capable of up to 42 inch diameter piping.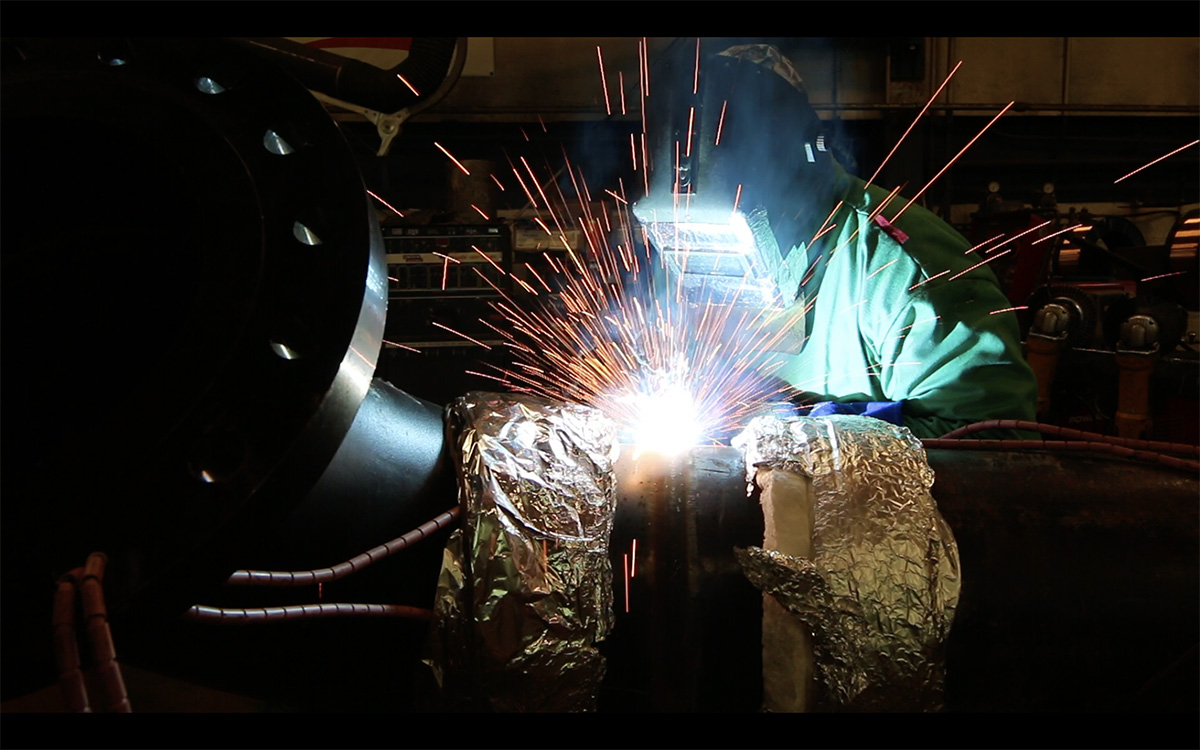 I can only use superlatives to describe the outstanding level of professionalism exhibited by your project manager and his work crews. The work was carried out, among all the trades involved, with great attention to detail, cleanliness, courtesy, and ongoing communication at every stage. It was a pleasure to interact with everyone from your organization, and many of us from the School of Pharmacy looked forward to our daily visits to the construction areas
– Peter H. Doukas, Ph.D.
|
Temple University, School of Pharmacy
Even more commendable than cost and schedule performance is J.J. White's betterment of project safety goals which resulted in the safe completion of the difficult and potentially dangerous work required. It is our opinion that this achievement is at least partially attributable to JJ White's expansion of it's corporate safety program, which through the implementation of twice weekly Tool Box Meetings, daily Job Safety Analysis, management oversight, and a safety incentive program served to communicate to employees the singular importance of safety and JJ White's commitment to compliance.
– William R. Robison
|
CO Boiler Project Construction Manager
I just wanted to extend my thanks to you and your team. It came to my attention that one of your crew members exercised Kinder Morgan's "You Can Stop" philosophy while beginning work on the floor of Tank 301. Your team deftly recognized that the pontoons on the roof were not tested and did not conform with JJ White's internal safety procedures. The pontoons were tested and came back hot, potentially resulting in an unsafe working condition.  Work schedules were shifted and priorities were rebalanced, but at the end of the day everyone is safe – which is the paramount priority. It is this kind of safety mindset we are excited to see and it speaks volumes of JJ White's commitment to safety and quality.
– Jason Sluzynski
|
Kinder Morgan
I would like to take this opportunity to thank you and your staff for the job you did on our beautiful new headquarters. Our state of the art Union Hall and Training Center is a facility that we can all be proud of. We appreciate your work ethic and the personal involvement which you committed from beginning to the completion of our building.
– Bob Sciorillo
|
Steamfitters Local Union 420
"The truck/rail system is finally ready. Thank you to Mike Roach and Lane Lundberg for working together to get the system to operate as planned"
– Stephen Boonstra
|
Kinder Morgan