JJ White has an in-house Fabrication Shop capable of providing all of the custom fits for your project. The JJ White Fabrication Shop makes more than 100,000 Diameter Inches of Fabrication per year and is capable of up to 42 inch diameter piping.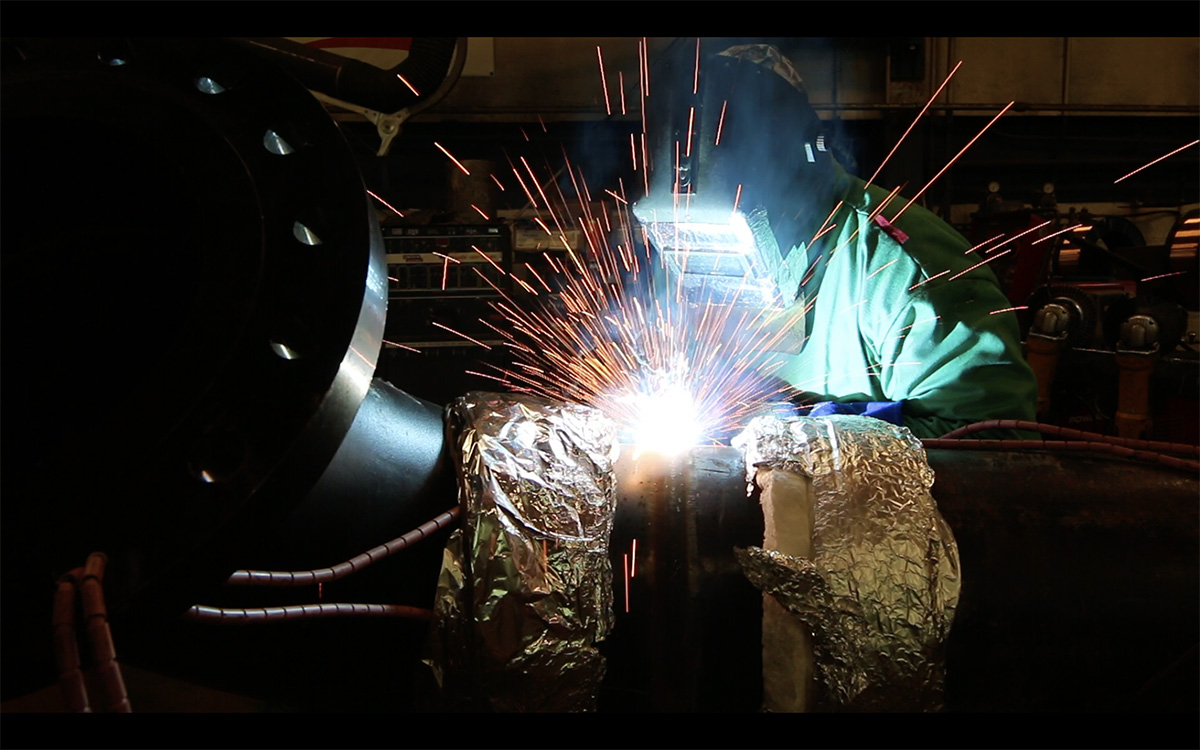 Even more commendable than cost and schedule performance is J.J. White's betterment of project safety goals which resulted in the safe completion of the difficult and potentially dangerous work required. It is our opinion that this achievement is at least partially attributable to JJ White's expansion of it's corporate safety program, which through the implementation of twice weekly Tool Box Meetings, daily Job Safety Analysis, management oversight, and a safety incentive program served to communicate to employees the singular importance of safety and JJ White's commitment to compliance.
– William R. Robison
|
CO Boiler Project Construction Manager
JJ White was given the responsibility for the installation of the two, very large air intake filter housing structures associated with the gas turbines, the steam condense, erection of the steel paperback structures, and several other project scope items. JJ White fulfilled their services in a very professional, efficient, and effective manner. I highly recommend JJ White as an excellent contractor for anyone seeking competent, dependable, and professionally executed mechanical services
– Howard C. Sims, Project Director
|
Duke/Fluor Daniel
"Chet Conneen was the Project Manager for JJ White on the Amgen AR30 Project. JJ White's performance was superior and my interface with Chet was daily.  Chet worked hard at being client focused and putting forth his best effort towards delivering what was necessary to advance the project.   Chet grew in his experience working on this major project and today in my opinion is better project manager due to his dedicated efforts and understanding of the multiple requirements of a complex project. I hope that our paths cross again in the future and we have the opportunity to work together on another project."
I want to thank everyone who worked so hard on this project and helped to make the Main Building Revolving Door project a success. I really appreciate the assistance, expertise, and patience your staff provided. It was a pleasure working with everyone, and I look forward to working with you and your team in the future.
– Michael P. McCloskey
|
Thomas Jefferson University, Facilities Design & Construction
In my thirty-six years working at this University, I have never had cause to sit down and write a letter to an employer citing how pleased I was with his employees. Two of your employees have been working in and around my complex for the past three weeks. During that time, both my staff and I have been astounded by their competence, accommodating ways, politeness, and consideration on a daily basis. This is not usual.
– Carl L. Calliari, Ed.D.
|
Rowan University