You can count on JJ White for single-source excellence in construction,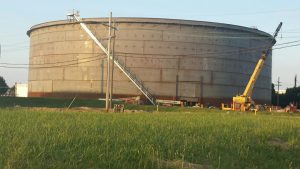 maintenance, and repair of aboveground tanks for a variety of applications: refining, chemicals, petrochemicals, product storage, water and wastewater tanks, and more. We offer both construction of new tanks and the full gamut of repairs, modification, and upgrades to existing tanks.
For tank repair services speed is often crucial, and our group is ready to mobilize at a moment's notice. Each foreman has a heavy-duty truck and trailer fully outfitted to perform any basic repair work to API 653 code. Our skilled personnel can be at your location within hours with everything necessary to perform basic repairs, including specialized hand tools, burning, welding, and rigging equipment, and all necessary safety equipment. We will immediately deal with leaks and schedule other services, including repairs to shells, bottoms, fixed or floating roofs, chimes, and leak detection systems.
The Tank Group, located in New Castle Delaware, also provides design and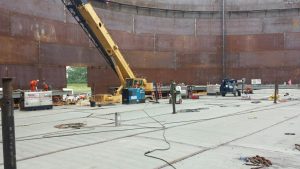 construction of new field-erected tanks per API and other codes. Along with the tank itself, we provide mechanical engineering, civil engineering, concrete work, and piping to offer our customers "one-stop" shopping. Our diversity gives us ultimate control over safety and schedule, as well, without having to rely on outsiders or subcontractors. Although the newest division of the company, as with all JJ White services, experience and expertise are our hallmarks. Six management personnel with a total combined experience of 150 years strictly in the tank business, oversee more than 65 experienced field personnel. Three staff members are certified API 653 inspectors, and our chief engineer is a registered professional engineer and sits on the API 650 subcommittee.
Tank Services
Design, fabrication, and erection of API 650 tanks, both carbon and stainless steel
Cone roof tanks up to 220′ diameter, with or without internal floating roofs
Open top tanks up to 165′ diameter
Dome roof tanks up to 100′ diameter, to both API 650 and API 620
Design, fabrication, and erection of AWWA water storage tanks
Fabrication and erection of large plate structures, including scrubbers, precipitators, clarifiers, hoppers and bins
Repair, modification, and revamp of existing tanks
API 653 certified repair work, including secondary bottom design and installation, bottom replacements, shell ring replacements, design, fabrication and installation of new cone roofs, complete tank revamps.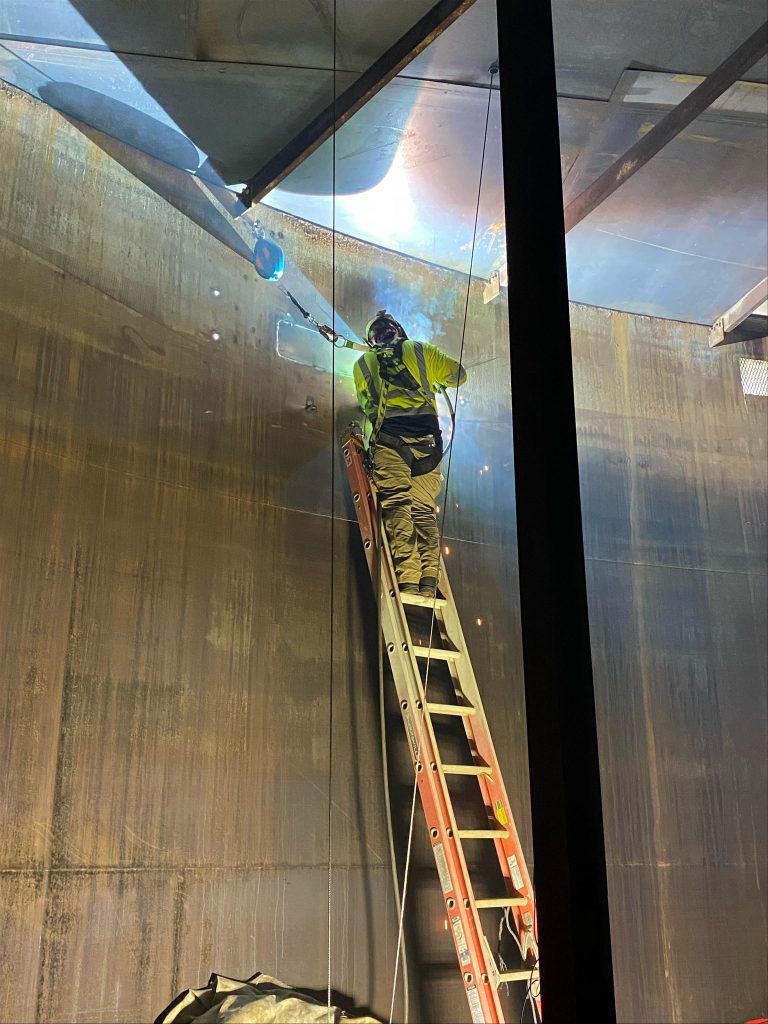 Lap Patching overflow vents within product level. Project is in Lawrence, NY
Welder tied off using retractable
Ladder is blocked off on floater to keep from moving
Fire watch on floater covering seal with fire blanket
Hole watch on the fixed roof watching employees performing the work on top of the floater. Also a 2nd hole watch out side of the tank watching below the floater for when employees exist the tank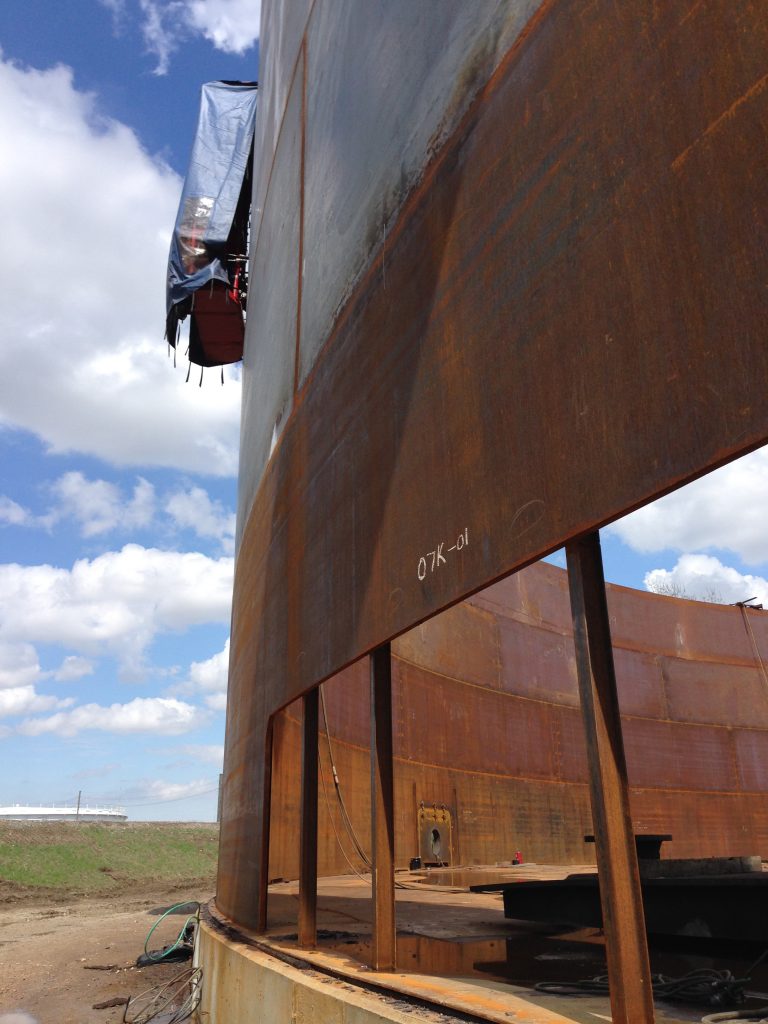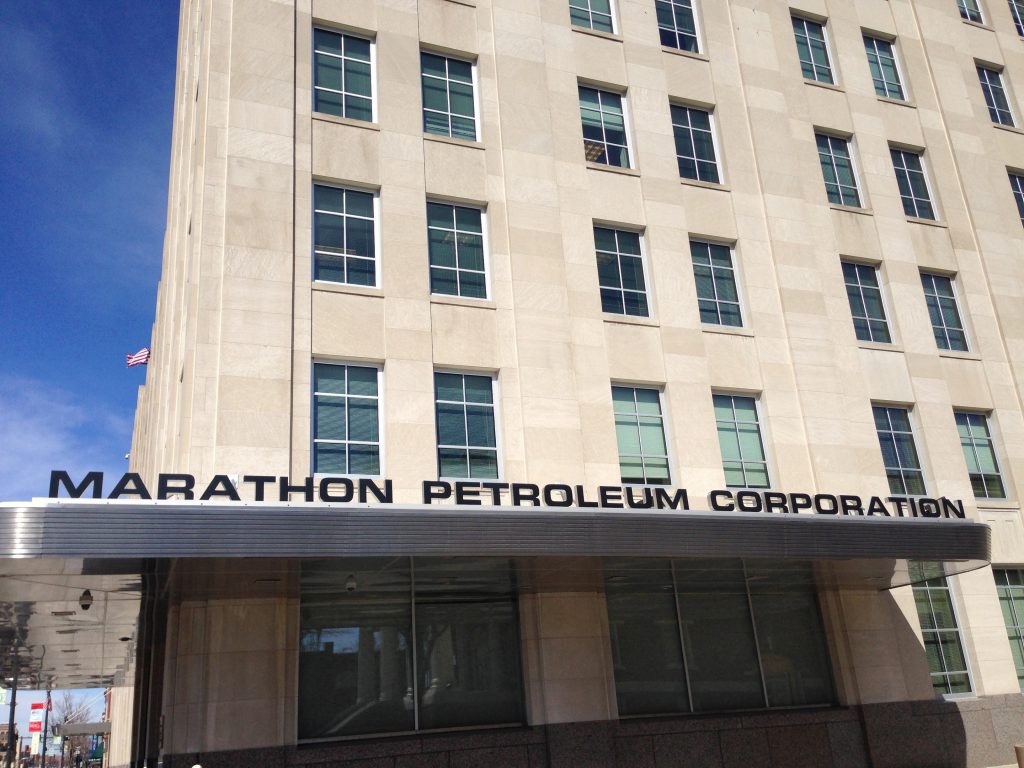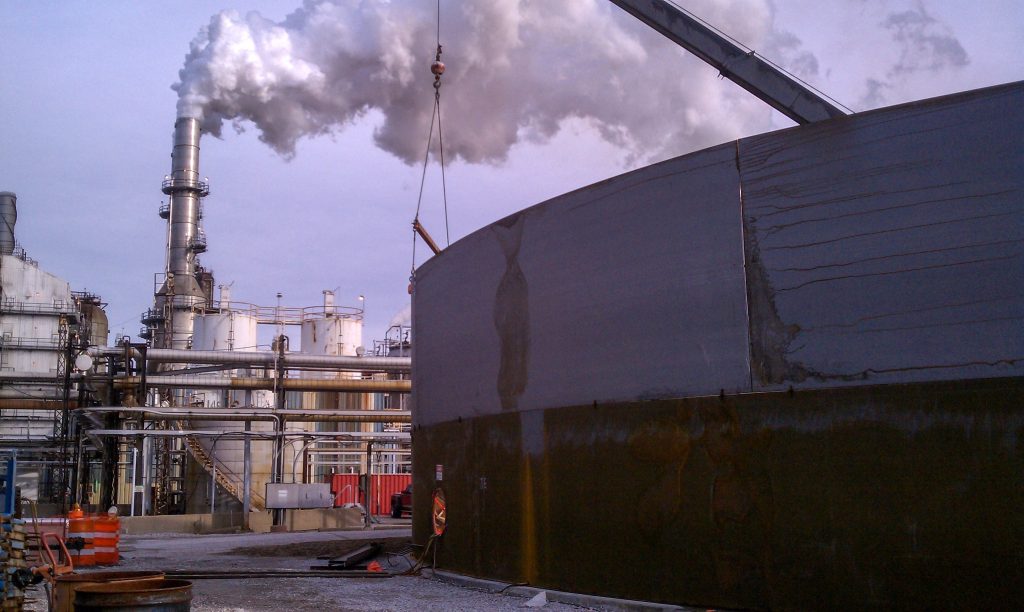 I just wanted to extend my thanks to you and your team. It came to my attention that one of your crew members exercised Kinder Morgan's "You Can Stop" philosophy while beginning work on the floor of Tank 301. Your team deftly recognized that the pontoons on the roof were not tested and did not conform with JJ White's internal safety procedures. The pontoons were tested and came back hot, potentially resulting in an unsafe working condition.  Work schedules were shifted and priorities were rebalanced, but at the end of the day everyone is safe – which is the paramount priority. It is this kind of safety mindset we are excited to see and it speaks volumes of JJ White's commitment to safety and quality.
– Jason Sluzynski
|
Kinder Morgan
I will take this opportunity to commend JJ White for an excellent job done with the construction of the seven storage tanks for Kinder Morgan's Gateway Project. JJ White's team completed seven tanks on schedule with a clean safety record. The cooperation, attitude, and quality of construction by the JJW field team was exceptional. The achievement of this high level of construction quality and timeliness was even more impressive in that it occurred during one of the worst winters on record for the area.
– Wendell Griffith
|
Gateway Project Site Manager