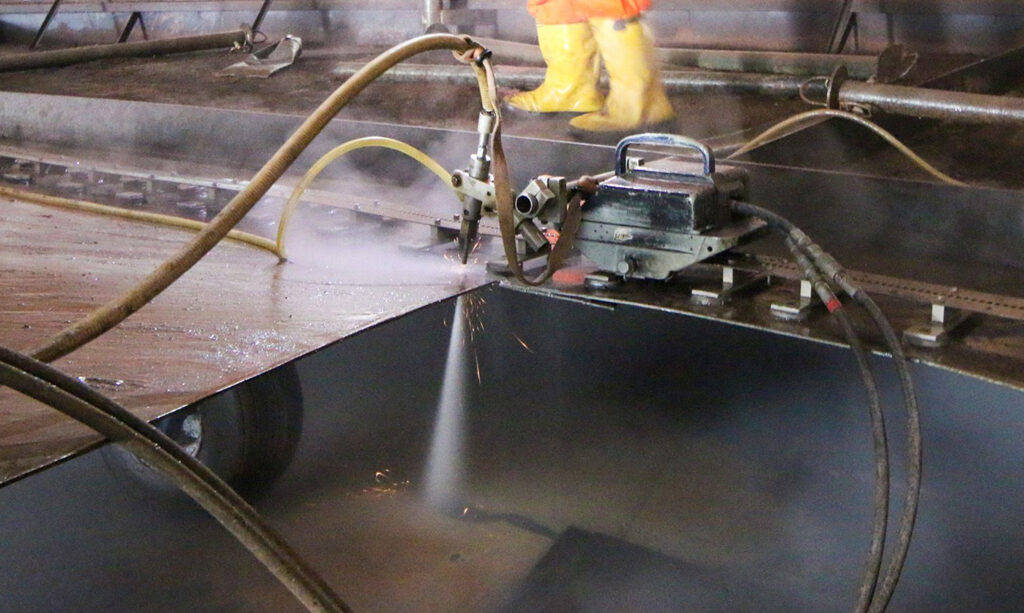 By utilizing state-of-the-art high pressure pumps as well as external and internal cleaning and extraction equipment, JJ White has the ability to pull tube bundles with a diameter of 104 inches weighing up to 30 tons. JJ White Exchanger crews are also able to clean bundles contaminated with residual material from any refining process.
The JJ White Hydro Services Group has extensive experience in all phases of industrial high-pressure water services. This includes exchanger cleaning, hydro-cutting, line cleaning, concrete deconstruction, as well as major commercial cleaning activities
Services Provided
Exchangers
Including truck and aerial extraction, remote and in-place cleaning, and remote lancing 10k-40k psi
Hydro-Cutting
Experienced in precision cutting, tank demolition, refractory lined petrochemical equipment, and structural applications
Vessel & Line Cleaning
Safely clean process piping and vessels using remote operated state-of-the-art equipment
Concrete Deconstruction
Refractory, foundation, and structural removal applications
Industrial/Commercial Cleaning
Cleanings that require 10k-40k psi high-pressure water activities
Crews & Equipment
Nucleus of steady, experienced HPSO professionals

Affiliated with all building trade unions

Highly skilled and trained in working with all facets of high-pressure water applications

Servicing the industry since 2002

Our exchanger equipment is compiled of truck exchanger extractors, aerial extractors, automated cab-over and shell-side stationary cleaners, and remote operated lancing systems operating 10k-40k pressure systems.

Hydrocutting capabilities for all steel and refractory applications

Pumping systems range from 10k-40k psi
Our instructor stated that the J.J. White Co. of Philadelphia performed accident free for many years in a demanding high risk environment. He presented your commitment to safety as an example to hundreds of new hires.
I was impressed not only with the professionalism, attention to detail, focus on safety, and teamwork displayed by the JJ White team, but also the positive attitude and willingness to meet our changing demands.
– Kurt Budnik
|
Lead Maintenance Technician, Genzyme Corporation
During the safety training, our instructor reviewed accident prevention and risk evaluation in the chemical/petroleum industry. The auditorium was packed and he went on to say that during his past career managing a chemical plant in NE Philadelphia, a local company, JJ White Inc., proved him wrong in that accidents in such a high risk environment can be prevented.