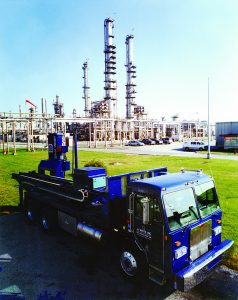 JJ White Inc.'s extensive catalog of hydroblasting equipment allows for the extraction, cleaning/hydroblasting, and replacement of heat exchanger bundles and condensers. The exchanger cleaning work, typically known as pull/clean/push work, is now something that clients can look forward to calling on JJ White to have done as a unique activity, without the interrupting processing or generation units. In addition, clients may opt for a complete unit shutdown and have this work done as a part of a comprehensive turnaround/outage maintenance program performed by JJ White Inc.
By utilizing state-of-the-art high pressure pumps as well as external and internal cleaning and extraction equipment, JJ White has the ability to pull tube bundles with a diameter of 104 inches weighing up to 30 tons. JJ White Exchanger crews are also able to clean bundles contaminated with residual material from any refining process.
The Exchanger Hydroblasting / Extraction Service Group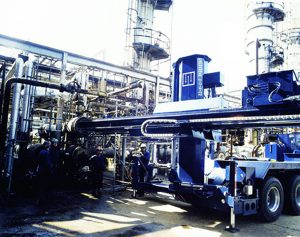 possesses:
Multi-lance internal tube cleaning machines
Heavy rigging equipment
Tube replacement equipment
10k, 20k and 40k PSI high pressure pumps
Truck mounted and aerial bundle extractors
Our instructor stated that the J.J. White Co. of Philadelphia performed accident free for many years in a demanding high risk environment. He presented your commitment to safety as an example to hundreds of new hires.
I was impressed not only with the professionalism, attention to detail, focus on safety, and teamwork displayed by the JJ White team, but also the positive attitude and willingness to meet our changing demands.
– Kurt Budnik
|
Lead Maintenance Technician, Genzyme Corporation
During the safety training, our instructor reviewed accident prevention and risk evaluation in the chemical/petroleum industry. The auditorium was packed and he went on to say that during his past career managing a chemical plant in NE Philadelphia, a local company, JJ White Inc., proved him wrong in that accidents in such a high risk environment can be prevented.