JJ White Inc. has extensive knowledge and expertise in electrical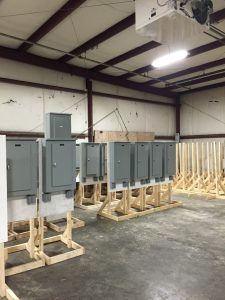 installations, troubleshooting, and routine maintenance of electrical equipment, emergency systems, and high/medium/low voltage wiring equipment. Among our power distribution services, JJ White Inc. can build and install switchgear, electrical control panels, and motor control centers.
JJ White Inc., provides full maintenance capabilities for existing systems. Along with the calibrations of instruments and much more:
Complete commercial electrical installations/repair/maintenance
Rough wiring with conduit & other types of approved wiring methods
Low voltage controls
Security systems
Fire alarm equipment and devices
Underground services, including tie-ins to utility company transformers
Communication cable & equipment installations
Learn More about our partnership with TerraSol Energies, Inc. Here:
Why Solar, Why Now – TerraSol Energies, Inc
TerraSol Energies Portfolio Part 1
TerraSol Energies Portfolio Part 2
TerraSol & JJ White Carport Case Study
I would like to thank J.J. White for the great job they did at the Verizon Paoli Central Office. Bob  Callahan did an excellent job with all of the mechanical equipment installation. His attention to detail and awareness of the special requirements for working in a Verizon facility are much appreciated. Paoli is one of Verizon's more critical Central Offices, and Bob and Mike DePalma completed their work at the building incident free and without any complaints from the local employees. This is not always an easy task at a critical facility while working near sensitive telephone equipment and on critical building environmental systems. It is a pleasure working with both of them. Thank you for assigning them to your Verizon projects.
I will take this opportunity to commend JJ White for an excellent job done with the construction of the seven storage tanks for Kinder Morgan's Gateway Project. JJ White's team completed seven tanks on schedule with a clean safety record. The cooperation, attitude, and quality of construction by the JJW field team was exceptional. The achievement of this high level of construction quality and timeliness was even more impressive in that it occurred during one of the worst winters on record for the area.
– Wendell Griffith
|
Gateway Project Site Manager
In addition to the basic specifications for the project, your team frequently had helpful suggestions to improve upon the renovations' initial plans. Additionally, they were diligent in supervising all subcontractors that worked on the project. Subcontractors were held to the same work standards as the JJ White team. The end result of these efforts was that Immaculate Mary Home was transformed into a state of the art, modern nursing facility. I would highly recommend JJ White for the coordination and supervision of any project of similar magnitude
– Stuart Skinner, NHA, MBA
|
Immaculate Mary Home
Multiple JJ White crews descended upon a fully occupied nursing facility, home to over 200 elderly sisters. The JJ White organization approached this challenging logistical project by communicating with the professional staff, developing creative solutions to site conditions, and respecting and exceeding all general conditions of the project. Having completed 10 million dollars of construction, I would not hesitate to place JJ White at the top of my bid list.
– Sister Paula Marie Burley, IHM
|
Immaculata College
The Irish Memorial is a very special addition to your impressive list of accomplishments. I'm proud to have it in my district and in the most historic mile in the United States. Few companies have the honor of their work becoming part of history, you should be very proud of having been selected
– Marie A. Lederer
|
House of Representatives, Commonwealth of Pennsylvania