JJ White Inc. has extensive knowledge and expertise in electrical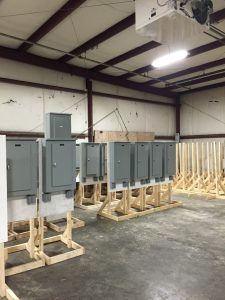 installations, troubleshooting, and routine maintenance of electrical equipment, emergency systems, and high/medium/low voltage wiring equipment. Among our power distribution services, JJ White Inc. can build and install switchgear, electrical control panels, and motor control centers.
JJ White Inc., provides full maintenance capabilities for existing systems. Along with the calibrations of instruments and much more:
Complete commercial electrical installations/repair/maintenance
Rough wiring with conduit & other types of approved wiring methods
Low voltage controls
Security systems
Fire alarm equipment and devices
Underground services, including tie-ins to utility company transformers
Communication cable & equipment installations
In my thirty-six years working at this University, I have never had cause to sit down and write a letter to an employer citing how pleased I was with his employees. Two of your employees have been working in and around my complex for the past three weeks. During that time, both my staff and I have been astounded by their competence, accommodating ways, politeness, and consideration on a daily basis. This is not usual.
– Carl L. Calliari, Ed.D.
|
Rowan University
I am very pleased of the outcome of working with JJ White. Safety at the work site, cost, and maintaining our schedule were all successes.
– Curt Diehl
|
Sr. Project Manager, The Dow Chemical Company
Our instructor stated that the J.J. White Co. of Philadelphia performed accident free for many years in a demanding high risk environment. He presented your commitment to safety as an example to hundreds of new hires.
Consistently, your team has provided us with a top level of service, both in maintenance of our existing systems and with the recent installation of a new Liebert unit in our data center. We look forward to the continued expert level of support provided by JJ White
– Barbara McAvenia, Paul H. deLuca
|
AON
I wanted to thank you for all your help this past summer. As you know, some of the jobs were difficult at best. With your help, and the help of your staff, we were able to pull it off without a problem. You also did a wonderful job keeping track of all the numbers and changes on the job and your organizational skills were invaluable. It was a pleasure working with you and I'm looking forward to future jobs together
– B. Kroh
|
Temple University, Department of Facilities Management