JJ White Inc. has extensive knowledge and expertise in electrical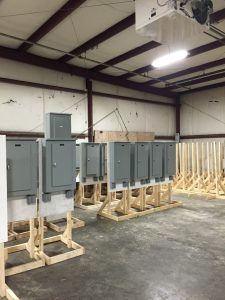 installations, troubleshooting, and routine maintenance of electrical equipment, emergency systems, and high/medium/low voltage wiring equipment. Among our power distribution services, JJ White Inc. can build and install switchgear, electrical control panels, and motor control centers.
JJ White Inc., provides full maintenance capabilities for existing systems. Along with the calibrations of instruments and much more:
Complete commercial electrical installations/repair/maintenance
Rough wiring with conduit & other types of approved wiring methods
Low voltage controls
Security systems
Fire alarm equipment and devices
Underground services, including tie-ins to utility company transformers
Communication cable & equipment installations
Thanks to your excellent project management and site supervision we were able to safely and efficiently execute the outage within our planned estimates. Everyone worked well together and effectively communicated to achieve a common goal. The quality of work was superior and we experienced zero leaks on unit start-up.
– Michael K. Menosky
|
Maintenance Manager, Port Reading Refinery, Hess Corporation
I can only use superlatives to describe the outstanding level of professionalism exhibited by your project manager and his work crews. The work was carried out, among all the trades involved, with great attention to detail, cleanliness, courtesy, and ongoing communication at every stage. It was a pleasure to interact with everyone from your organization, and many of us from the School of Pharmacy looked forward to our daily visits to the construction areas
– Peter H. Doukas, Ph.D.
|
Temple University, School of Pharmacy
You, and all of the friends of Ireland who helped bring this great Memorial to fruition, can take pride in your achievement. It is a hugely important work of public art
– Eugene Hutchinson
|
Consulate General of Ireland
I just wanted to extend my thanks to you and your team. It came to my attention that one of your crew members exercised Kinder Morgan's "You Can Stop" philosophy while beginning work on the floor of Tank 301. Your team deftly recognized that the pontoons on the roof were not tested and did not conform with JJ White's internal safety procedures. The pontoons were tested and came back hot, potentially resulting in an unsafe working condition.  Work schedules were shifted and priorities were rebalanced, but at the end of the day everyone is safe – which is the paramount priority. It is this kind of safety mindset we are excited to see and it speaks volumes of JJ White's commitment to safety and quality.
– Jason Sluzynski
|
Kinder Morgan
I wanted to convey that the technician you sent in was pleasant, professional, and knowledgeable. We talked initially and at intervals during the day updating and explaining issues and generally giving me understandable direction of his work. What a nice guy!
– Jim Leggoe
|
Borough of Lansdowne, Code Enforcement Department