JJ White Inc. has extensive knowledge and expertise in electrical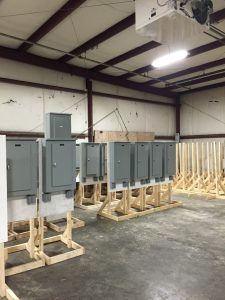 installations, troubleshooting, and routine maintenance of electrical equipment, emergency systems, and high/medium/low voltage wiring equipment. Among our power distribution services, JJ White Inc. can build and install switchgear, electrical control panels, and motor control centers.
JJ White Inc., provides full maintenance capabilities for existing systems. Along with the calibrations of instruments and much more:
Complete commercial electrical installations/repair/maintenance
Rough wiring with conduit & other types of approved wiring methods
Low voltage controls
Security systems
Fire alarm equipment and devices
Underground services, including tie-ins to utility company transformers
Communication cable & equipment installations
Learn More about our partnership with TerraSol Energies, Inc. Here:
Why Solar, Why Now – TerraSol Energies, Inc
TerraSol Energies Portfolio Part 1
TerraSol Energies Portfolio Part 2
TerraSol & JJ White Carport Case Study
"I've been in the trades for nearly 39 years and I've worked for many companies. Although I'm thankful to all of my past employers, there are two companies who stand out the most. However, JJ White is, no doubt, my favorite company"
JJ White was given the responsibility for the installation of the two, very large air intake filter housing structures associated with the gas turbines, the steam condense, erection of the steel paperback structures, and several other project scope items. JJ White fulfilled their services in a very professional, efficient, and effective manner. I highly recommend JJ White as an excellent contractor for anyone seeking competent, dependable, and professionally executed mechanical services
– Howard C. Sims, Project Director
|
Duke/Fluor Daniel
I would like to take this opportunity to thank you and your staff for the job you did on our beautiful new headquarters. Our state of the art Union Hall and Training Center is a facility that we can all be proud of. We appreciate your work ethic and the personal involvement which you committed from beginning to the completion of our building.
– Bob Sciorillo
|
Steamfitters Local Union 420
The VPP Team Leader reported that your SGE was a valuable member of the evaluation team. The personnel at the site were very impressed with your SGE's professionalism and knowledge of safety and health. By allowing your SGE to serve on VPP evaluation teams, you actively support the program by assisting OSHA in maintaining the evaluation schedule for other workplaces. This is critical to the long-term success of the program
– Michael Levy, Assistant Regional Administrator
|
U.S. Department of Labor
In addition to the basic specifications for the project, your team frequently had helpful suggestions to improve upon the renovations' initial plans. Additionally, they were diligent in supervising all subcontractors that worked on the project. Subcontractors were held to the same work standards as the JJ White team. The end result of these efforts was that Immaculate Mary Home was transformed into a state of the art, modern nursing facility. I would highly recommend JJ White for the coordination and supervision of any project of similar magnitude
– Stuart Skinner, NHA, MBA
|
Immaculate Mary Home