JJ White Inc. has extensive knowledge and expertise in electrical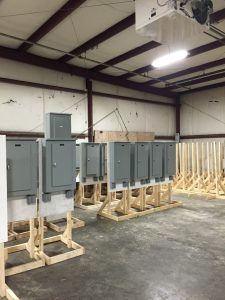 installations, troubleshooting, and routine maintenance of electrical equipment, emergency systems, and high/medium/low voltage wiring equipment. Among our power distribution services, JJ White Inc. can build and install switchgear, electrical control panels, and motor control centers.
JJ White Inc., provides full maintenance capabilities for existing systems. Along with the calibrations of instruments and much more:
Complete commercial electrical installations/repair/maintenance
Rough wiring with conduit & other types of approved wiring methods
Low voltage controls
Security systems
Fire alarm equipment and devices
Underground services, including tie-ins to utility company transformers
Communication cable & equipment installations
Learn More about our partnership with TerraSol Energies, Inc. Here:
Why Solar, Why Now – TerraSol Energies, Inc
TerraSol Energies Portfolio Part 1
TerraSol Energies Portfolio Part 2
TerraSol & JJ White Carport Case Study
I want to thank everyone who worked so hard on this project and helped to make the Main Building Revolving Door project a success. I really appreciate the assistance, expertise, and patience your staff provided. It was a pleasure working with everyone, and I look forward to working with you and your team in the future.
– Michael P. McCloskey
|
Thomas Jefferson University, Facilities Design & Construction
Even more commendable than cost and schedule performance is J.J. White's betterment of project safety goals which resulted in the safe completion of the difficult and potentially dangerous work required. It is our opinion that this achievement is at least partially attributable to JJ White's expansion of it's corporate safety program, which through the implementation of twice weekly Tool Box Meetings, daily Job Safety Analysis, management oversight, and a safety incentive program served to communicate to employees the singular importance of safety and JJ White's commitment to compliance.
– William R. Robison
|
CO Boiler Project Construction Manager
I want to acknowledge you and your employee's contribution to the safety performance at the Trainer Refinery. The safety statistics this year document that our performance, focus, programs (existing and new), and collaboration have generated one of the best years ever at this site.
– Peter M. Batey
|
ConocoPhilips, Trainer Refinery
"Your company's assiduous safety practices and infinite safety talks have made me more conscious of constantly identifying and avoiding hazards, not only on the job, but also in my everyday activities. Safety can never be taken for granted"
I want you to know how pleased I was with the performance of your company. The level of service and commitment to the work was obvious to all of us here. I personally was responsible for the pipeline job and could not have been happier with the result. The support all through the planning stages of the turnaround was top notch. The cherry on top was managing to do all of this work without even a minor first aid case. Kudos to you and your company, I look forward to working with you in the future.
– Bill Devine
|
Sunoco Chemicals