JJ White Inc. has extensive knowledge and expertise in electrical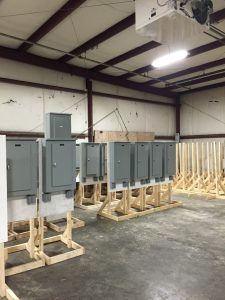 installations, troubleshooting, and routine maintenance of electrical equipment, emergency systems, and high/medium/low voltage wiring equipment. Among our power distribution services, JJ White Inc. can build and install switchgear, electrical control panels, and motor control centers.
JJ White Inc., provides full maintenance capabilities for existing systems. Along with the calibrations of instruments and much more:
Complete commercial electrical installations/repair/maintenance
Rough wiring with conduit & other types of approved wiring methods
Low voltage controls
Security systems
Fire alarm equipment and devices
Underground services, including tie-ins to utility company transformers
Communication cable & equipment installations
Learn More about our partnership with TerraSol Energies, Inc. Here:
Why Solar, Why Now – TerraSol Energies, Inc
TerraSol Energies Portfolio Part 1
TerraSol Energies Portfolio Part 2
TerraSol & JJ White Carport Case Study
I want to thank everyone who worked so hard on this project and helped to make the Main Building Revolving Door project a success. I really appreciate the assistance, expertise, and patience your staff provided. It was a pleasure working with everyone, and I look forward to working with you and your team in the future.
– Michael P. McCloskey
|
Thomas Jefferson University, Facilities Design & Construction
I was impressed not only with the professionalism, attention to detail, focus on safety, and teamwork displayed by the JJ White team, but also the positive attitude and willingness to meet our changing demands.
– Kurt Budnik
|
Lead Maintenance Technician, Genzyme Corporation
Consistently, your team has provided us with a top level of service, both in maintenance of our existing systems and with the recent installation of a new Liebert unit in our data center. We look forward to the continued expert level of support provided by JJ White
– Barbara McAvenia, Paul H. deLuca
|
AON
Thanks to your excellent project management and site supervision we were able to safely and efficiently execute the outage within our planned estimates. Everyone worked well together and effectively communicated to achieve a common goal. The quality of work was superior and we experienced zero leaks on unit start-up.
– Michael K. Menosky
|
Maintenance Manager, Port Reading Refinery, Hess Corporation
"Thank you for the great job JJ White did on our 250 Manufacturing Building. Your crew was always professional, well skilled, and worked safely at all times. The finished work looks great. Thanks again."
– Richard L. McCormick
|
Vimco