JJ White Inc. has extensive knowledge and expertise in electrical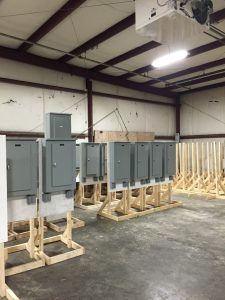 installations, troubleshooting, and routine maintenance of electrical equipment, emergency systems, and high/medium/low voltage wiring equipment. Among our power distribution services, JJ White Inc. can build and install switchgear, electrical control panels, and motor control centers.
JJ White Inc., provides full maintenance capabilities for existing systems. Along with the calibrations of instruments and much more:
Complete commercial electrical installations/repair/maintenance
Rough wiring with conduit & other types of approved wiring methods
Low voltage controls
Security systems
Fire alarm equipment and devices
Underground services, including tie-ins to utility company transformers
Communication cable & equipment installations
Learn More about our partnership with TerraSol Energies, Inc. Here:
Why Solar, Why Now – TerraSol Energies, Inc
TerraSol Energies Portfolio Part 1
TerraSol Energies Portfolio Part 2
TerraSol & JJ White Carport Case Study
"The truck/rail system is finally ready. Thank you to Mike Roach and Lane Lundberg for working together to get the system to operate as planned"
– Stephen Boonstra
|
Kinder Morgan