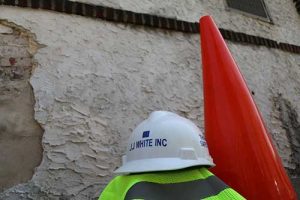 Since 1993, JJ White, Incorporated has maintained full time Corporate Safety and Risk Management Department acting in a Loss Prevention and Loss Control coordinating capacity, and each working on a direct and daily basis with the field labor, and with the insurance carriers as needed.
JJ White's safety programs are fully integrated into the Company's management system, and are a part of the overall Plan, Do, Check, Act cycle which allows for a continuous improvement opportunity based on actual and specific experience. Through continuous safety training, systems, and procedures, JJ White Inc. has received numerous safety awards and recognitions, most notably the OSHA VPP Star designation in 2009 (Paulsboro, NJ refinery) which continues through present. President Jim White asserts: "Safety is very crucial in the operations of JJ White."
Safety Stand Downs
Toolbox Talk
Even more commendable than cost and schedule performance is J.J. White's betterment of project safety goals which resulted in the safe completion of the difficult and potentially dangerous work required. It is our opinion that this achievement is at least partially attributable to JJ White's recent expansion of it's corporate safety program, which through the implementation of twice weekly Tool Box Meetings, daily Job Safety Analysis, management oversight, and a safety incentive program served to communicate to employees the singular importance of safety and JJ White's commitment to compliance.
– William R. Robison
|
CO Boiler Project Construction Manager