JJ White's HVAC Service Group has the history and experience to craft a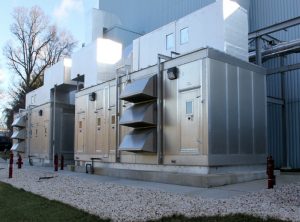 solution for all of your heating and cooling needs. Our skilled and qualified employees have worked with both installation and maintenance projects, in both large and small venues, for a wide range of customers.
Our client base includes Fortune 500 companies in the pharmaceutical and heavy industrial markets, as well as many smaller companies that utilize our outstanding maintenance services. JJ White's versatility and experience ensures that our workforce can resolve your HVAC needs.
JJ White has significant experience with:
Heating
Ventilating
Air Conditioning
Refrigeration
Cooling Towers
Coil Repairs & Replacements
Pumps
Filter Services
Automatic Temperature Control Systems
Water Treatment
Sheet Metal
Welding
I wanted to let you know that we had an emergency HVAC issue Sunday potentially impacting our computer servers.  We reached out to JJ White who reacted immediately and was on site in our Philadelphia offices until the problem – a building-related problem – was resolved and everything was in good order. I just wanted to recognize and thank you and HVAC leadership for this incredible level of client service and responsiveness.
– Alfred J. Johnston
|
Post & Schell
I wanted to convey that the technician you sent in was pleasant, professional, and knowledgeable. We talked initially and at intervals during the day updating and explaining issues and generally giving me understandable direction of his work. What a nice guy!
– Jim Leggoe
|
Borough of Lansdowne, Code Enforcement Department
Consistently, your team has provided us with a top level of service, both in maintenance of our existing systems and with the recent installation of a new Liebert unit in our data center. We look forward to the continued expert level of support provided by JJ White
– Barbara McAvenia, Paul H. deLuca
|
AON
Good relationships make for good business and good business is built on trust. Trust is a product of reliability, competence, judgement, and integrity. Your team has exhibited all of the aforementioned qualities and is largely responsible for my selecting JJ White as Bethesda Project's HVAC service provider. Working with a company that I trust is very important to me and I have found such a company
– Angelo G. Sgro
|
Bethesda Project, Executive Director
In my thirty-six years working at this University, I have never had cause to sit down and write a letter to an employer citing how pleased I was with his employees. Two of your employees have been working in and around my complex for the past three weeks. During that time, both my staff and I have been astounded by their competence, accommodating ways, politeness, and consideration on a daily basis. This is not usual.
– Carl L. Calliari, Ed.D.
|
Rowan University