The incredible effort of our Health & Safety Department in 2016 is now earning national recognition! Safety is paramount to the success of any construction company and we make sure that safety is one of our core, cultural values at JJ White. Our Health, Safety, and Environment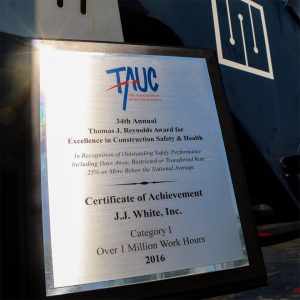 Team works closely with our Risk Management Department to stay ahead of the game in regards to our employees' safety.
After the dust settled on our 1.65+ million hours worked in 2016, we began to compile the year-end safety statistics that told an impressive story. Our .24 OSHA Recordable Rate, .12 Lost Time Incident Rate, and .24 DART Rate are significantly below the national average. The mere two OSHA Recordables sustained only resulted in one lost time incident. Most importantly, every person on a JJ White jobsite in 2016 went home at the end of the day.
National Organizations, such as The Association of Union Constructors, have started to take notice of these incredible achievements. We were recently presented with their 34th Annual Thomas J. Reynolds Award for Excellence in Construction Safety & Health. This award recognizes our outstanding safety performance including days away, restricted rate, and transfer rate being more than 25% below the national average.
The American Fuel & Petrochemical Manufacturers awarded us with three separate Contractor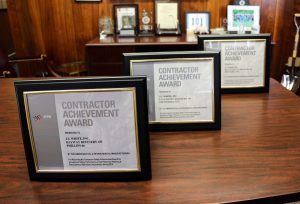 Achievement Awards for our exceptional, site-specific safety performance at the Bayway, Paulsboro, and Delaware City Refineries in 2016. These three locations are some of our largest jobsites and we are extremely proud to know that our safety culture resonates in major workplaces.
We are extremely proud of our employees that put safety at the forefront of their minds each and every day. Without their dedication, none of this is possible. We are excited to continue our outstanding safety performance this year!