SOUTH BEND, Ind. – The University of Notre Dame's storied football program opened a new chapter in their history last week by unveiling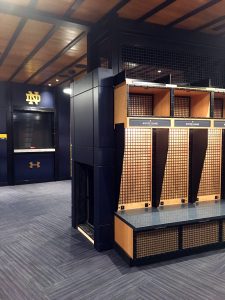 a locker room redesign inside of Notre Dame Stadium. The new locker room, built by JJ White, seeks to meld the program's rich history with the endless possibility of the future. Modern finishes mix with traditional brickwork to create an atmosphere that is uniquely Notre Dame.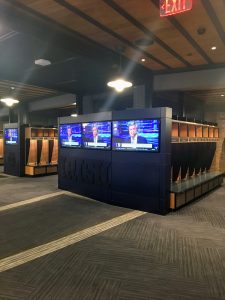 "As a Notre Dame graduate, this is about as exciting as it gets," said JJ White President James J. White IV. "To have the opportunity to work on such a storied space is a thrill for all of us."
The redesign took place as a part of Notre Dame's Campus Crossroads Project intended to create an intersection between athletics, academics, and student life. The project is also the largest building initiative in the history of the school.
The modernized facility keeps its traditional feel through a great degree of subtlety and class. The new lockers feature USB charging ports and recessed mood lighting. Flat-screen televisions located at strategic points throughout the facility show highlights from the program's incredible history. An illuminated interlocking ND logo hangs from the ceiling to give the room some pop. The high-end finishes work in-tandem with the historic features to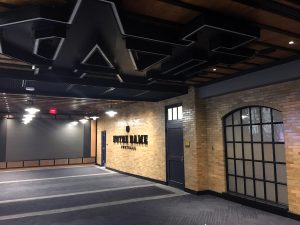 bring Notre Dame Stadium into the 21st Century.
"The best part of the new locker room is that it provides everything a modern day player needs, adds some extra exciting touches, and still has that classic Notre Dame feel," said White.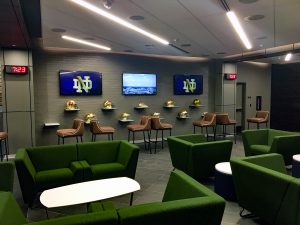 Part of the locker room redesign also involved a new recruiting lounge for hosting prospective players and their families on gameday. Known as the Schivarelli Lounge, the room comes complete with flat screen televisions, games, seating, and a food and beverage area that is sure to "WOW" future players.
JJ White crews worked on an extremely tight schedule to make sure the locker room would be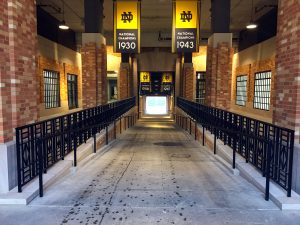 ready for opening kickoff. The aggressive schedule led to construction wrapping up nearly three weeks in advance of the Temple Owls visit to Notre Dame Stadium on September 2. Workers also had to take great care in building around historic parts of the facility that went untouched during the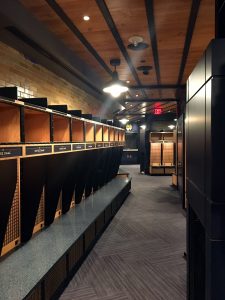 redesign. The famous "Play Like A Champion" sign and entrance into the stadium remain intact.
"Now that's something that can't be changed," laughed White. "Not in a million years."