In the time of giving, we need your support! JJ White's Midwest office located in South Bend, Ind. is sponsoring a special event for area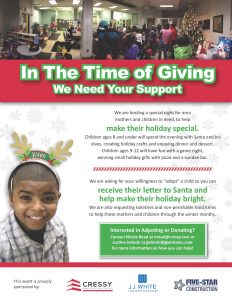 mothers and children in need. The children will enjoy a night of holiday crafts, dinner, and dessert all in the company of Santa and his elves! However, in order to make this event a success, we need your help.
We are seeking anyone interested in "adopting" a child for the holidays to contact us as soon as possible. By "adopting" a child, you will receive their letter to Santa, help purchase gifts, and brighten their holiday season. We are also seeking donations of toiletries and non-perishable food items to assist families during the winter months.
If you are interested in "adopting" a child, donating items, or assisting with this event in any way, please contact Justine Jelinski at jjelinski@jjwhiteinc.com. Stay tuned for updates on our social media pages. We appreciate your support for this wonderful event