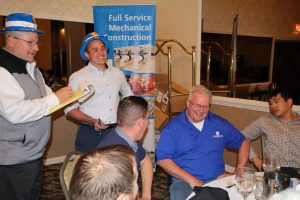 PHILADELPHIA- On June 6th JJ White Inc. held its annual company dinner at the Clarion Hotel in Philadelphia, Pa. The event is designed as a way to say thank you to employees for their hard work and dedication to JJ White.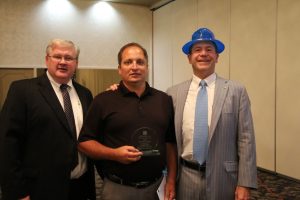 Team members from the home office in Philadelphia, South Bend, St. Paul, New Castle, Boston, and field employees from across the country were able to wind down after work by mingling and sharing experiences with coworkers.
The event began with social hour, giving employees the chance to build relationships with peers from various JJ White branches. These interactions provide an opportunity to learn more about the company, gain project insight, and share tips of the trade.
After employees had the chance to mingle with other JJ White personnel, it was time for dinner. While guests dined on the hearty meal, prizes like Wawa gift cards were awarded and raffle tickets were drawn.
The main activity of the evening followed by dinner, as employees dressed in journalist hats "interviewed" their peers about company issues. This activity was designed to let employees voice their opinions about certain matters, and allow for JJ White to make necessary changes for continued success.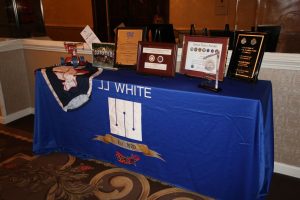 One of the most important aspects of the company dinner is getting all the staff members on the same page and up to date on corporate attributes. A series of presentations focused on the previous year's financial statistics as well as company highlights from the past year. These presentations also looked towards the future and potential projects in the coming year.
Once the presentations were over, company leadership recognized various employees for successful work and awarded the project of the year to Curt Plomb for the successful Notre Dame Football Locker Room renovation. The annual company dinner has become a tradition that celebrates JJ White's ability to safely turn a project into a reality.