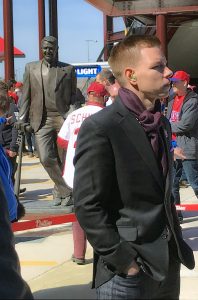 PHILADELPHIA – Many fans of the Philadelphia Phillies can still hear the voice of legendary broadcaster Harry Kalas when the team takes the field. His deep, leathery voice conjured nostalgia for the crack of a bat, the smell of cut grass, and long summer days at the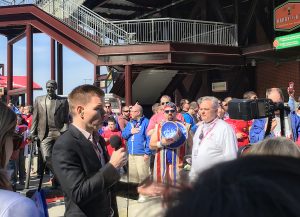 ballpark.  His passing in 2009 left the team and the Philadelphia community with a lifetime of memories to celebrate. Each year on Opening Day, Kalas' son, Kane, an accomplished Opera singer, performs the National Anthem next to his
late father's statue. As the crowd silences when the music begins, fans are provided an opportunity to reflect on the past, while on the precipice of something new. Kane's powerful voice reminds fans of why they initially fell in love with the Phillies and why so many make the pilgrimage to South Philly every Opening Day.
JJ White Inc. transported and installed the Harry Kalas statue in 2011. We are proud to help preserve Kalas' legacy and give fans the opportunity to reflect on all of the memories and nostalgia that he represents. Congratulations to Kane on another excellent performance!
NOTE: The Harry Kalas statue is located in Left Field Corner of Citizens Bank Park and can be seen during all Phillies home games