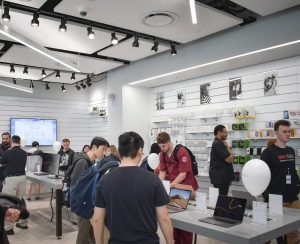 PHILADELPHIA – Temple University students lined the halls of Pearson and McGonigle Halls on April 18th for the opening of the school's new technology store. While allured by the potential for food and prizes, students also browsed the store's offerings of computers, laptops, tablets, and accessories. The modern redesign, dubbed the "OWLtech" store, is a major new resource for students on campus.
As Universities around the world continue to move in a more tech-friendly and forward-thinking direction, students must have access to state-of-the-art equipment and support. In alignment with this vision, Temple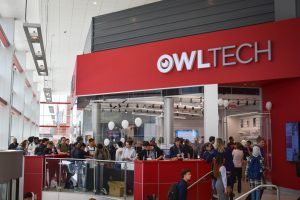 Directors wanted to augment Pearson Hall's existing Computer Recycling Center with a comprehensive technology store. The Temple team turned back to JJ White Inc. for the OWLtech project after the company successfully completed the Computer Recycling Center just a few years prior.
Pearson Hall is home to the University's Rec Center among other aspects of campus life. The space for the technology store was in-use as a rock climbing facility before JJ White crews began demolition. The rock wall was moved to another part of the building to allow the technology store and Computer Recycling Center to co-exist as Temple's main hub of technology in the middle of campus.
JJ White's team gutted existing interior structure and performed a complete renovation of the space allowing it to transform into the sleek, modern store Temple's Board of Directors had in mind. The JJ White crew replaced the flooring, hung new drywall and glass, and also installed the lighting system to show off the store's vast array of products. The project was successfully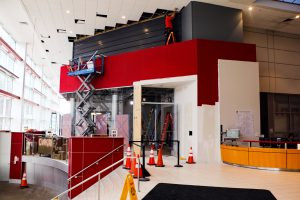 performed while the building was fully occupied and did not disturb normal operations. Construction crews were finished long before the store's scheduled opening.
JJ White Inc. is proud to work at Temple University and the company takes great satisfaction in knowing that our work will help students stay on the cutting edge of technology for years to come.