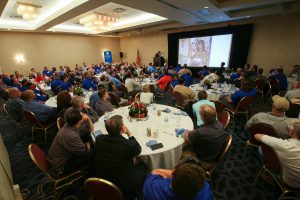 PHILADELPHIA – JJ White Inc. recently held our annual company dinner at the Philadelphia Renaissance Airport Hotel. Each year, the dinner provides an opportunity for hundreds of JJ White team members from around the country to get together to network and learn under the same roof. Colleagues from our offices in Boston, St. Paul, Delaware, and Northern Indiana were able to make the trip and share their experiences away from our headquarters in Philadelphia.
At JJ White, we like to say that safety is our top priority and that even remains true at our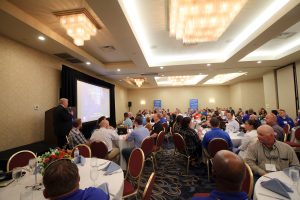 company dinners. The evening began with a welcoming and discussion of a safety topic. A buffet dinner followed where guests were given plenty of time with coworkers to catch up. Many JJ White employees have been with the company for many years, making these dinners an important tool for maintaining the camaraderie we share.
Continuing with the safety theme, JJ White invited representatives from one of our biggest clients to attend the dinner and share insights that will help us keep our crews safe on the jobsite. Sharing safety insights between organizations is crucial, as safety is everyone's responsibility.
Following this presentation, JJ White Executive Vice President of Operations, Jim Daley, led guests through a customized game of Wheel of Fortune to help reinforce the most important parts of our superintendent manual. Chapter titles from the manuals were included as puzzle answers in the classic gameshow as a fun way to bolster these important concepts with our employees. Some of the answers included, "Quality Assurance and Quality Control," "Correspondence," and "Project Controls."
Finally, the night concluded with notes of gratitude for many people throughout the company as well as the presentation of our "Project of the Year" Award. This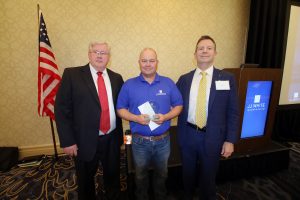 year, Fred Alderman took home the top prize for his tremendous work at the Calpine York II Energy Center. Congratulations to Fred and thank you to all of our employees that were able to attend. We hope to see you again next year!