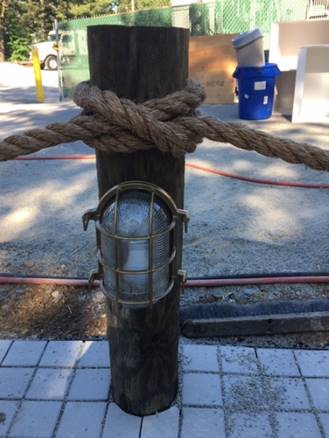 HYANNIS, Mass. – JJ White Inc.'s New England Operations is in the final stages of completing Cape Cod Chip's renovation project in Hyannis, MA, now open to the public.  One of the interesting design elements is a series of 24 wooden bollards, designed with a nautical light fixture and roping tied to each bollard with a clove hitch knot. Gary Luck, Construction Manager for JJ White, brought on board Cadet Aaron Diauto, 1/C and Cadet John Gallagher, 1/C from the Massachusetts Maritime Academy to tie those knots.
The outcome was spectacular all the way to the whipping at the end of the 1-1/2" diameter rope.
Gary Luck, Construction Manager for JJ White, Incorporated stated, "It was a matter of finding the right talent to do the work. These Cadets have that talent. We were so proud to have them on our team and wish them only the best as they serve our Country."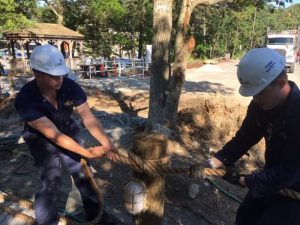 JJ White Inc. a multi-trade contractor is a fourth-generation family-run business with a tradition of excellence in the New England, Mid-Atlantic & Midwestern, construction industry that dates to its founding in 1920.
For additional information on how JJ White, Inc. can help your organization in New England please contact Michael Pellegrino at mpellegrino@jjwhiteinc.com.