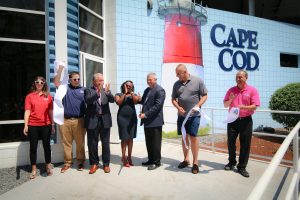 HYANNIS, Mass. – A Cape Cod tradition was temporarily put on hold until this month as Cape Cod Chips sought to improve their existing factory. Located in Barnstable since 1980, Cape Cod Chips has grown from humble beginnings into an international brand. The factory is capable of producing thousands of bags of chips a day and the company's loyal following is invited to see how it all comes together.
The chip factory uses a traditional kettle cooking method to give their product its unique crunch. This crunch has led people from all over the country and the world to tour the facility and get a behind-the-scenes look at the process. The 30-minute long, self-guided tour takes visitors through the process from peeling and cutting the potatoes, to bagging the finished the product. As the company's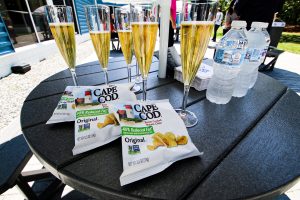 popularity grew in recent years, Cape Cod Chips now expects more than 250,000 visitors per year. In order to keep up with rising tourism demands, Cape Cod Chips decided to renovate the production facility and greatly overhaul the visitor tour experience.
JJ White Inc. was brought in to perform extensive renovations in order to modernize the aging factory. The changes start from the moment visitors' cars pull into the facility. A newly paved and redesigned surface lot alleviates parking lot tension while guests then walk along a new stone path to the entrance. Cape Cod Chips leaned into their identity as a coastal company with the design aspects of the renovation, placing 24 wooden bollards with nautical light fixtures and specially tied ropes courtesy of the Massachusetts Maritime Academy.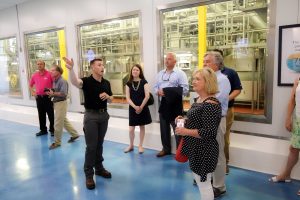 Once inside the factory, visitors are greeted by a mural the JJ White team was able to preserve throughout the construction process as well as new, blue flooring designed to evoke the spirit of the ocean. The JJ White team widened the walkway that guides visitors along the tour in order to accommodate additional guests. New signage and mounted televisions explain the kettle chip making process and point out factory features. Cape Cod Chips also trusted JJ White to handle antique equipment that some of the first Cape Cod Chips were made on for an exhibit along the tour.
At the conclusion of the tour, guests make their way to a redesigned gift shop for a complimentary bag of the legendary chips. Guests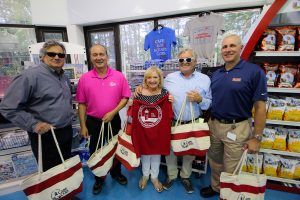 also now have the option to enjoy their chips on a brand new outdoor patio complete with picnic tables and umbrellas. The well-executed renovation now allows Cape Cod Chips to comfortably accommodate the number of visitors that make it one of the top tourist attractions on the Cape.
The free tours are available 9am-5pm Monday-Fridays at 100 Breeds Hill Rd, Hyannis, MA 02601