2020 marks 100 years of service for JJ White Inc., a fourth-generation, family-owned company operating on the Christian values of honesty and respect.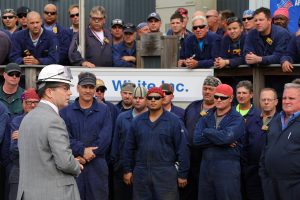 JJ White began its humble beginnings as a Mechanical Contractor in Philadelphia, and now operates across the Midwest, Mid-Atlantic, and New England. Our corporate footprint spans over 19-states and continues to grow, with eight offices located in Philadelphia, PA, Boston, MA, St. Paul and Rochester, MN, New Castle, DE, Whiting, IN, Toledo, OH, and St. Louis, MO.
We have evolved in to a single-source, multi-trade contractor providing General, Mechanical, Electrical, Tank and Exchanger services with a presence heavy in the Life Sciences, Academia, Commercial/Retail, petrochemical, business, healthcare, and industrial sectors. 
As a company we have so much to be thankful for. From constructing the first Houdry Fixed Bed Catalytic Cracking Unit, to moving the Liberty Bell, and to now constructing and maintaining state-of-the-art facilities in all sectors, we are proud to have made it to our 100 year anniversary. 
We are excited for the opportunities and relationships that our new office locations will bring in the coming years while maintaining and strengthening our current relationships. We are excited to share our history, our people, and our vision for 2020 and beyond with you as we celebrate 100 years of excellence.