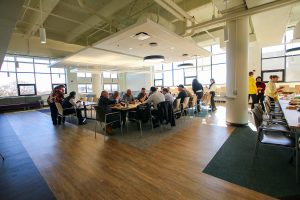 PHILADELPHIA –  JJ White recently held a luncheon at Temple University's Kornberg School of Dentistry Building to showcase a newly renovated space on the fourth floor. JJ White was the prime contractor on this job and our general construction team completed a stunning transformation.
The new space includes a designated meeting area where students have the ability to collaborate amongst one another on upcoming projects as well as a lounge area for students to relax in between classes. Aside from the lounge areas, the space includes a fully stocked cafeteria for students to come and go as they please throughout the day to grab a bite to eat. There is something for everyone to enjoy in the space.
This lunch was held as a way of saying thank you to the Temple personnel once again for choosing JJ White to renovate their space. We are very grateful for their past business, and look forward to working on more projects with Temple down the road.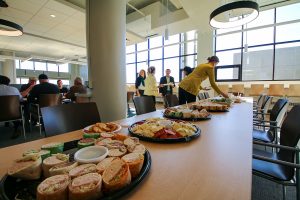 Personnel from Temple were able to take a step back from their busy day, to come and enjoy lunch and take a tour of the new space. Many people could not believe the transformation that the area went through. We provided a "Before and After" board of photos from the previous layout to what it looks like in present day. It gave people not only a chance to walk down memory lane, but an opportunity to see how drastically the space has changed.
Jim Gallagher, Senior VP of our General Construction Group, said "The pictures displayed on the board do not even do justice for what the actual space looks like. Truly a breathtaking change."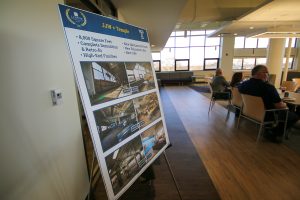 It is always rewarding to renovate spaces like these where students are working to create something great. It makes working on projects like these more enjoyable knowing that we are a part of that process.