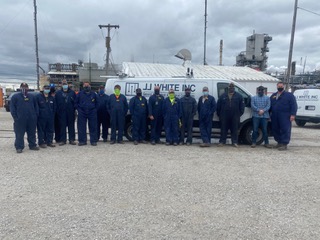 Since taking over the maintenance contract at Philipps 66's Wood River Refinery in Roxana, IL in December 2020, our teams continue to impress. Recent HVAC and Plumbing work, coordinated by our own Greg Wofford has drawn great reviews from around the site.
"Greg keeps track of his men well, reviews their foreman safety audits and ensures they are done, cooperates well with any training requirements, and has excellent communication with plant personnel" said Brian James, Site Safety Manager.
Greg and our Site Leader, Mike Christie are producing excellent work while also maintaining our company's core belief in safety.
"Greg is always pleasant to deal with, receptive to anything that is brought to him, and supports safety 100% of the time" said James.
We'd like to thank Greg Wofford and Mike Christie, our HVAC and plumbing crews, and the entire team at Wood River Refinery for their excellent work and innovation.