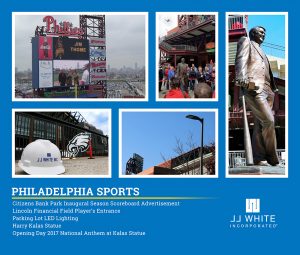 Our home office, located in Philadelphia, PA has long supported our area and the teams that represent it. Our history of athletic construction involves many of the top High Schools, Universities, and Professional teams.
In the professional sports world, JJ White crews installed LED Lighting at Citizens Bank Park, the player's entrance at Lincoln Financial Field, and HVAC work at the Wells Fargo Center. One of our most cherished projects also occurred at Citizens Bank Park, where we had the opportunity to install the statue dedicated to legendary Phillies broadcaster Harry Kalas. We love returning to the ballpark on opening day to see his son, Kane, sing the National Anthem next to his father's statue.
We also have performed work at many of the athletic facilities for the prestigious universities in the area. Our HVAC teams worked on Temple University's Liacouras Center as well as at athletic facilities at St. Joseph's University. We recently remodeled Temple University's basketball practice facility and completed a concrete restoration at the historic Franklin Field on the campus of the University of Pennsylvania.
Our footprint in the athletic world extends outside of the Philadelphia area as well, primarily through our work at the University of Notre Dame. On top of laying turf at the the world-renowned Notre Dame Stadium, we were given the incredible opportunity to renovate the stadium's home locker room. The room retains the historical feel that Notre Dame football is known for, while moving into the 21st century with high-tech, modern finishes. Reviews from players, coaches, and fans are extremely positive.
No matter who you support or where you are, JJ White is the right team for your athletic facility construction work.