We are pleased to announce that JJ White, a Clough company, completed 2021 with Zero Occupational Safety and Health recordable injuries.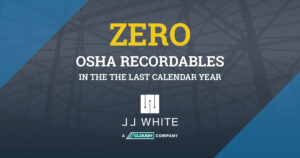 This achievement is a testament to the hard work and dedication of our employees who strive tirelessly to create a safe work environment at our project sites, fabrication shops and offices.  A huge thank you to everyone in the JJ White family for genuinely caring for each other and continuing to put safety first.
Adam Stashick, President of JJ White, said: "This accomplishment is a direct result of the safety culture created and adapted by our dedicated employee base.  It is humbling to work with a group of professionals who put the safety, health, and wellbeing of our employees at the forefront and strive to achieve nothing less than Zero Harm.  I want to thank our employees, customers, and all
other stakeholders for making this goal a reality."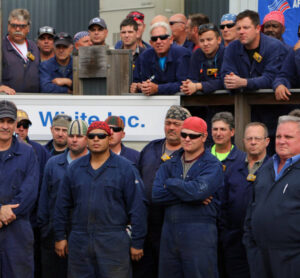 Jim Daley, Executive Vice President of Operations, said: "I am very proud of all JJ White employees for their hard work, dedication and overall commitment to safety.  Completing 2021 without an OSHA recordable is a direct result of that commitment.  Our true goal is no incidents which we wholeheartedly believe is achievable."
JJ White is a multi-trade contractor with operations in the mid-Atlantic, Northeast and Mid-West regions.  We specialize in the industrial, commercial, and other energy sectors.  Through our parent company, Clough, we can offer full engineering, construction, commissioning and decommissioning services to our clients.