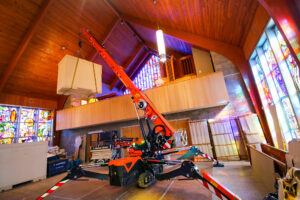 WAYNE, PENN. – When the St. Katharine of Siena Parish outside of Philadelphia needed to replace their organ and install a new one, they knew they could turn to the team at JJ White to handle this delicate project.
First installed at the church in 1966, the old organ was actually never intended for this type of use. Instead, the instrument was built for use in an organ players convention in the city the previous year. The organ became dated as a result of this, and the renowned Italian organ makers, Frattelli Ruffatti, were brought in to craft an organ specifically for the sanctuary. The company averages 3 organ builds per year that each cost over a million dollars.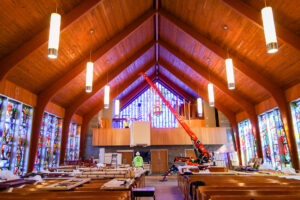 The limited space where most of the 2,500 pieces organ pipes were installed was also elevated, requiring the use of another piece of specialty equipment, known as a Jekko crane. These machines, also built in Italy, specialize in lifting in confined spaces. This project also benefitted from using a brand new, never before used Jekko crane.
JJ White oversaw the delivery of the organ materials, site preparation, electrical work, and crane installation. Once the organ parts were lifted into place, the master organ team from Frattelli Ruffatti installed each piece before commencing a two week long tuning process.
The JJ White electrical team completed some of the most complicated parts of this project, working alongside the organ crafters to install power and lighting inside of the pipe chambers. Our four man crew also installed two control panels to run wires to equipment inside of the chambers.
"It was a really special project that took a lot of communication and months of planning," said JJ White Project Manager Vic Torino.
The beautiful church now has one of the world's highest quality organs estimated to last over 100 years. We are grateful for our continued partnership with the St. Katharine of Siena Parish and look forward to hearing this impressive instrument for many years to come.