How long have you been with JJ White and what initially attracted you to the company?
I came on board with JJ White in May of 2001. At the time I was a 4th period apprentice. As an apprentice with the Steamfitters local 420, you have to stay with the employer chosen. After the completion of the 5 year apprenticeship you can apply for any of the union contractors you like. I had already made up my mind that I was staying right at home with JJ White. The company was just starting up the HVAC division at that time, so it was exciting to be a part of something new.
What does an average day look like for you?
An average day for me would be to follow safety protocols put in place by our office and see if there are any new updates. I check in with the office to see what's hot as far as service calls go. This gets extremely busy in the summer and winter months so everyday is something new. Service calls can come in from all over the Tri-state area. Most of the time that entails troubleshooting the HVAC equipment, locating parts available, and getting the equipment back on-line to do its job. Communication with our customers is key, as we represent JJ White with 24/7 on call service.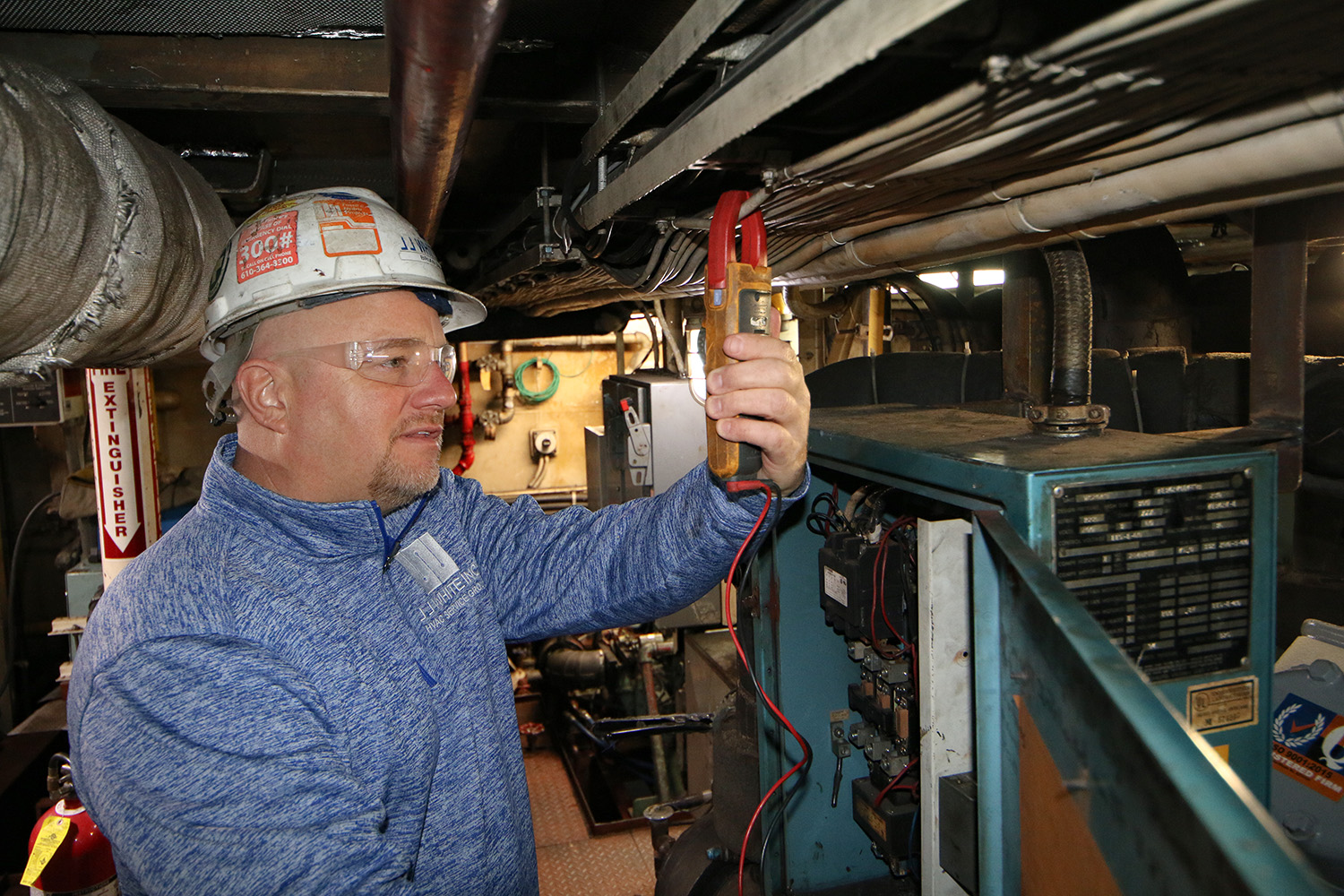 What do you think separates the JJ White HVAC Team from the rest?
I think JJ White separates itself from other companies by the team of service techs we have. The majority of our techs have been here for 10 years or longer. That helps to build relationships with our customers. JJ White also provides what we need as far as tools and safety equipment to get the job completed. They also back us with stop work authority. If we feel a job is unsafe we have the ability to stop work to re-assess. That gives us the backing we need to feel safe and not be pressured to make a mistake.
What is your favorite project that you've worked on at JJ White?
I have always taken pride in the construction side of our business, however, service is in my blood. I enjoy making the repair in high pressure situations. I enjoy the challenge of fixing HVAC equipment when it matters. For example, when there are 450 people about to board the Spirit of Philadelphia and the chiller goes down, I get a thrill out of responding to that call.
Responding to service calls in refineries when their process equipment goes down and production comes to a halt is another intense situation. Major money is being lost when equipment is down, and making repairs to put them back on line counts.
Working at New Bolton Center (Veterinary Hospital) and responding to service calls in their ICU for the animals is a very important responsibility.
What is your biggest accomplishment with JJ White so far?
One of my favorite accomplishments is an account I walked into called Solvay located in West Deptford, New Jersey back in 2013. Solvay is a polymers Research and Development laboratory. The original service call was for the repair of some lab equipment that was not HVAC related. I took on the challenge of learning and troubleshooting their equipment. Almost 10 years later, I have been involved with all the repairs of their lab equipment and have become the point man over the equipment manufacturer throughout their plant. This involves rotomolders, wireline, hydraulic presses, Blue M ovens, Extruders, and measuring equipment.