JJ White is proud to once again partner with the St. Charles Borromeo Seminary to present their annual Golf Classic. On October 2, 2017 we will join St. Charles Borromeo in teeing off at the Philadelphia Country Club in support of their seminarians. The event will include a round of golf at the historic course, dinner, and a live auction to entertain guests and sponsors.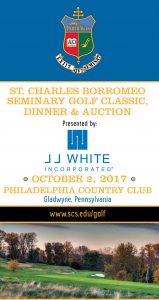 The St. Charles Borromeo Seminary is a special place for many, including us at JJ White Inc. In 2005, JJ White Inc. gutted and converted the Seminary's gymnasium and transformed it into a state-of-the-art library and computer lab. This project is one that we take a great deal of pride and revisit regularly. You can find out more information about this project HERE on our website.
"The St. Charles Borromeo seminary does incredible work in preparing seminarians for the rigors of being spiritual leaders for future generations. Their commitment to something greater mirrors our own company's values and we are proud to sponsor their 2017 Golf Classic," said JJ White President Jim White.
To learn more, register, or support the Golf Classic, visit: www.scs.edu/golf
We look forward to teeing off alongside you in October!